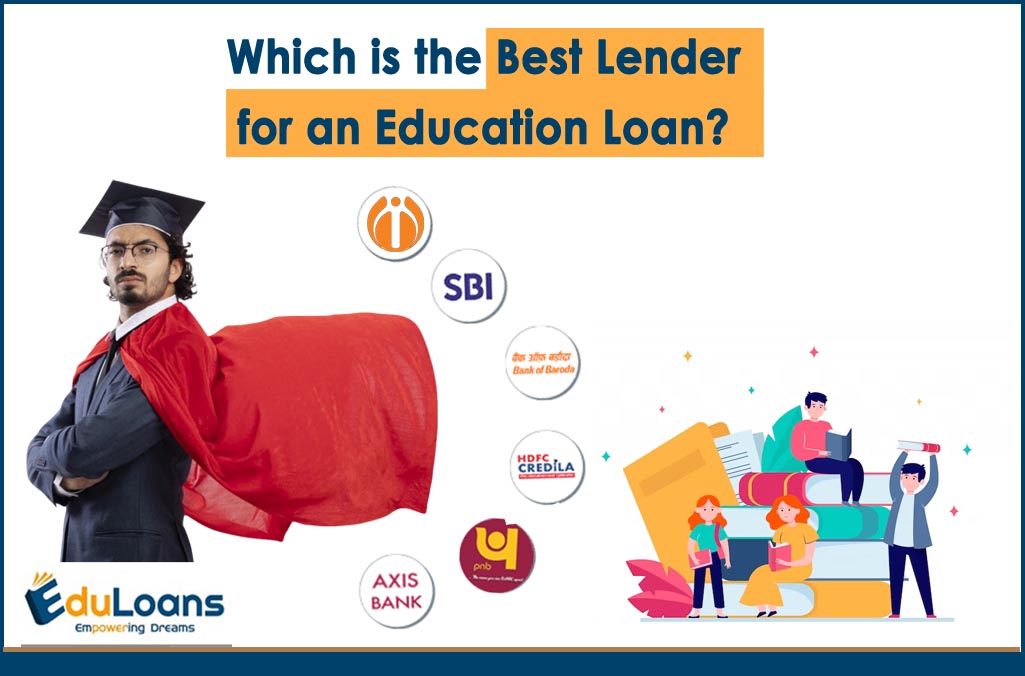 Which is the Best Lender for an Education Loan?
Education costs are rising faster. Parents and learners are battling for the finest grades and careers while also dealing with the financial effects of learning. Scholarships and study loans are the only choices available to students to assist them in accomplishing their academic goals. Even with no cosigner, students can fund their education by reaping the benefits of federally subsidized direct loans. However, locating the right student loan provider can be daunting. The leading banks for student loans provide additional features, including school loan insurance, processing charge waivers, no collateral debts, and duty exemptions. 
Numerous banks in India offer student loans for studying abroad. Here are the top lenders for education loans in India, assisting students in realizing their aspirations!
HDFC Credila
HDFC Credila offers study loans with lower interest rates for students attending reputable universities. It has provided funding to thousands of Indian students enrolled in courses abroad. HDFC Credila education loan is conversant with India's and other countries' admissions and educational procedures. It covers costs, including test fees, tuition, housing and dorm expenses, equipment, book, uniform purchases, travel expenses, library/lab fees, and laptop and computer purchases.
Key Highlights:
The minimum

study loan

amount is Rs 100000, with no upper limit imposed by HDFC Credila.

The current CBLR for HDFC Credila is

12.80%

annually.

The settlement of loan interest will start immediately upon the disbursement of the first installment.

The maximum debt repayment period is twelve years.
State Bank of India
SBI provides study loans for postgraduate study abroad in recognized countries, providing professional and technical graduates with employment opportunities. It covers tuition, the cost of textbooks and other supplies, tuition fees, lab and library fees, caution deposits, travel expenses, and more.
Key Highlights:
A maximum loan amount of Rs. 1.50 crore and a minimum is of Rs. 7.50 lacs

Variable interest rates

Quick online application procedure

loan sanctioned before i20/visa approval

EMI repayment for up to 15 years
Axis Bank
Students can apply for a study loan from Axis Bank for specialized, professional, or career-oriented courses. Student loans from Axis Bank have no upper limit, starting at INR 50,000, and can cover up to 100% of the total cost of tuition and living.
Key Highlights:
There are

no collateral

requirements on student loans up to Rs. 400000

The floating interest rate on loans upto four lakhs is

6.25%

Your proposed student loan can be released two days after it has been approved
Punjab National Bank
PNB Udaan is a unique study loan program for Indian students who have excelled academically and intend to pursue studies overseas. Students admitted to graduate or post-graduate programs ranging from diplomas are eligible for the loan. The PNB loan covers tuition fees, travel costs, exam costs, lab costs, library costs, book and equipment costs, and other associated expenses. 
The borrower must be an Indian national, have passed an entrance exam, or have been chosen based on merit for admission to a higher education program at an accredited overseas college or university.
Key Highlights:
Based on the particular merits of the case, fee reimbursements paid within six months are considered.

Zero margins Up to Rs. 4 lakhs, while the required margin is 15% for amounts over Rs. 4 lac.

Maximum repayment period of 15 years

No payment fees are involved.
IDBI Bank
The IDBI education loan covers university tuition, travel, exam, lab, library, and computer costs, book and equipment costs, and other relevant costs. With no collateral on loans under Rs. 4 lakhs, IDBI Bank approves loan amounts based on the borrower's needs.
Key Highlights:
Flexible terms and a facility for a loan extension

The maximum sanctioned amount is Rs. 30 lakhs.

Fifteen years is the maximum repayment duration after the moratorium period has ended.

Interest rate: 9% for loans up to 7.5 lakhs, 9.5% for loans over 7.5 lakhs, and 0.5% for female students.
Get a Fast Funding for Your Dreams!
Finding a student loan provider in India is a time-consuming process. However, getting help from the appropriate platform can arm you with the greatest facts on study loans to take full advantage of such opportunities.
At Eduloans, we guide you through the proper steps and enable you to finance your budget easily! Register today, and let us assist you in driving through your dreams.