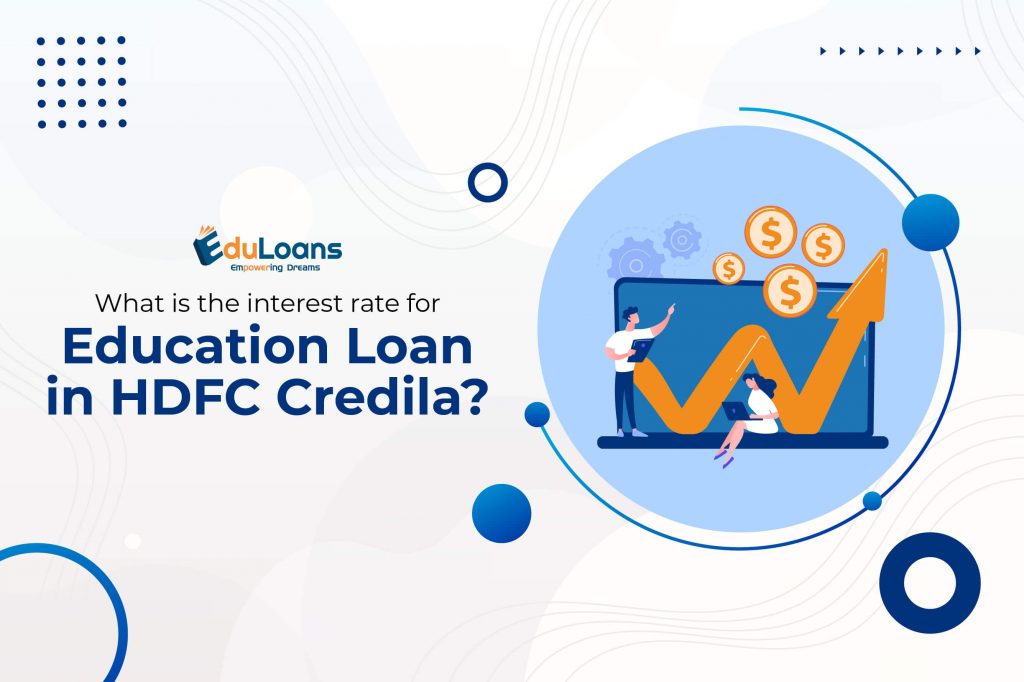 Overseas education loan come into picture when students desire to cherish their dream of studying abroad and making a career. Undoubtedly, it could be one of the key decisions of your life, which can completely help you make your life better. While there are many options to consider for overseas education loan,  HDFC Credila education loan is a desired choice among NBFCs as it was the first NBFC to pioneer in unsecured loans for students looking to go to USA. EduLoans provides overseas education loan for Credila through its dedicated  loan guidance counsellors which caters to each student with dedicated attention to get him the best deal from HDFC Credila. If you are here for knowing about the  HDFC Credila education loan, the table below will assist you in learning about each detail.
Parameters
HDFC Credila
Loan Amount
Secured : Any amount

 

Unsecured : Upto 35-40 Lakhs

%age of Loan Against

 

Collateral Provided

100 % of Property Value

 

(Exception for higher amount possible)

200 % of FD Value

(Case to Case basis)

Collateral Property

 

(Details)

Chain Agreemnet, Registered Sale Agreement,

 

Occupancy Certificate / Completion Certificate or

Approved Building Plan (Naksha), Share Certificate

(Front & Back Side)

Flexibility on any of the missing docs (Case To Case)

Once reviews by Legal Team

Consideration On

 

The Basis Of

Secured :

 

Property (Non Agricultural Land)

Multi City Collateral Acceptable

FD's (Only HDFC Ltd.)

Unsecured :

Academics of the student

Competitive Exams Performance

(GRE / TOEFL / IELTS etc.)

Country, University & Course Applied

& Co-Signor's Financials

(IT Returns &Cibil Report)

Student Profile
Flexibility (Case to Case)
Incidental Cost
NA
Interest Rate (ROI)
Secured :

 

11.25 % to 11.75 % (Negotiable)

Unsecured :

11.75 % to 12.75 % (Negotiable)

Interest Paying During

 

Moratorium Period

(Flexibility Available)

 

Partial Interest amount payable as per Amount

Disbursed in Tranches

Multiple repayment Options

Moratorium Period
EMI's start after 1 Year post the completion of course

 

(Can choose to pay earlier to save Interest)

Income Tax Benefit Under

 

Section 80E

Yes (Benefit to Co-Signor)

 

(I.T. to be paid only on Overall Income (Less) Interest

Amount)

Processing Fees
1.00 % + GST (Non Refundable)
Turn Around Time (TAT)
Secured : Approx. 8-10 Working Days

 

Unsecured : Approx. 4-6 Working Days

(Post Submission Of All Documents)

Margin Money
Secured & Unsecured :

 

0 % i.e. 100 % Funding of Sanction

Co-Signor's Profile

 

Requirement

I.T. Returns (Last 2 Yrs. – Mandatory) &Cibil Report
Maximum Repayment

 

Tenure

Upto 14 Years

 

(From date of 1st Disbursement)

Additional Charges
No
Countries They Do Funding

 

For

All Countries

 

MBBS Courses abroad & Pilot Courses not funded
HDFC Credila education loan through EduLoans
EduLoans recommends HDFC Credila education loan to students who are considering NBFC options to fund their education. Some of the key benefits offered ae-
No margin money
Tax benefit under Section 80-E of Income Tax Act
Zero upper limits the loan amount
Flexibility with the requirements of collateral security
Pre-approved loan even before applying to Universities
Eduloans works very closely with HDFC Credila education loan department and gets the best deal available for your overseas education option. We have done over 1000+ cases with HDFC Credila with an overall rating of 4.9 on google. Please reach us through our website. –  www.eduloans.org to get the best deal for Overseas education loan.