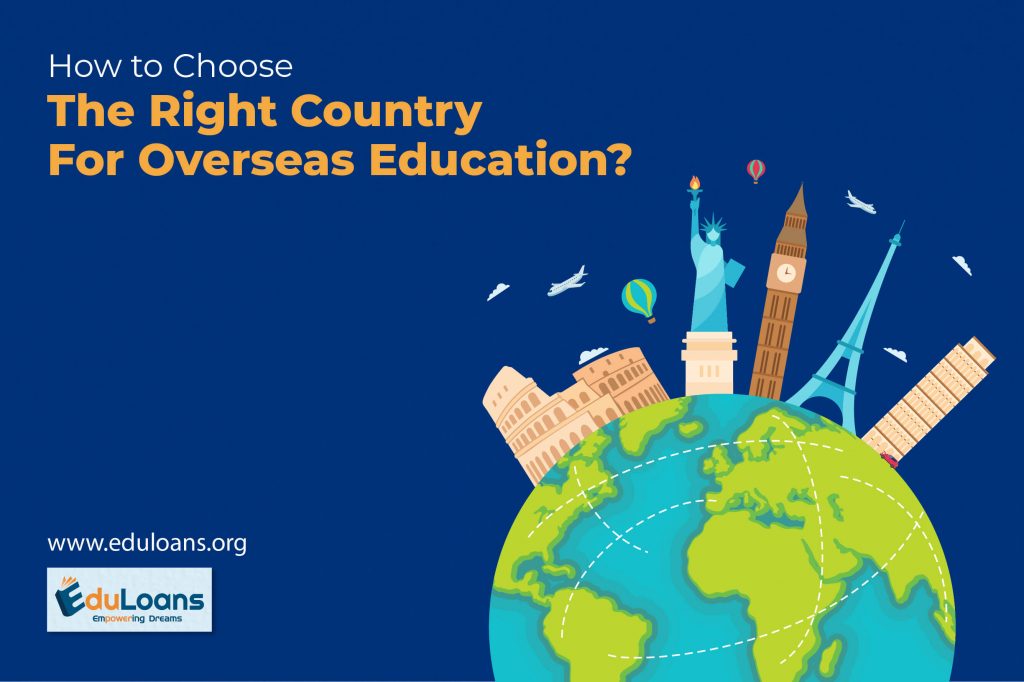 Choosing a right country for overseas education is a decision that is going to stick with you for the rest of your life. It is this decision that is going to create a foundation for your career, life and standard of living. However, the choice of a country is also important from financial aspect. Rising cost of overseas education and the education loan study abroad amounts makes students and professionals think twice before having their pick.While choosing a country, an application may be overwhelmed with a sheer number of opportunities that are available at the platter. Here are some of the ways in which you must make a right choice.
Selecting the discipline or course to pursue
If you know the specific course that you wish you pursue, you might explore places that offer the finest education there. However, there are some countries that are specifically known for certainkinds of courses. Here are the examples-
Medical &Public Health course in UK
Management, Finance and IT courses in Australia
Business and Finance courses in UK
Health Sciences and STEM courses in the US
Fashion and Luxury management in France
Core Engineering. – Automobile and precision Engineering in Germany
Sort on the basis of continent/ country/ city
There are chances that since you wish to apply for the overseas education loan, you have already decided which place you wish to study in. however, if not, you must sift through your options by summing down through continents, countries and cities. There may be handful of options for you, which include Asia, North America, UK or Europe. The city you choose will largely affect your cost of living throughout your course tenure.
International university rankings / Standing
One of the key factors that must be taken into consideration includes university rankings / Standing. Overseas education loan are easily available on accredited and A-listed universities with higher credibility. For instance, Bank of Baroda provides education loan study abroad under Baroda Scholar scheme for an amount of INR 80 lakhs with deviations, for preferential list of universities and institutions. These universities include Harvard, Oxford and alike. Meanwhile, the loan amount sanctioned for B-listed and C-listed universities is INR 60 lakhs and above with deviation. Rankings of university must be taken into due consideration before choosing the right country.
These must be your top three reasons to choose the country where you wish to study for next 3-4 years. Overseas education loan can be availed in assistance with the EduLoans, which acts as your stepping stone or bridge with the banks. EduLoans offers completely digital or semi digital process for education loans, which makes it easier for the students to get things done, even during specific times, such as coronavirus pandemic. We understand each lenders risk appetite for various countries as same profile might get different offers while choosing various countries.Quick and easy education loan for study abroad processes through EduLoans helps you with faster access to education loan study abroad. The list of associated lending partners with EduLoans makes it a good platform for the students for consideration. Some of the top rated and highly acclaimed public and private banks, along with NBFCs, which are RBI guided, are our lending associates for overseas education loan.