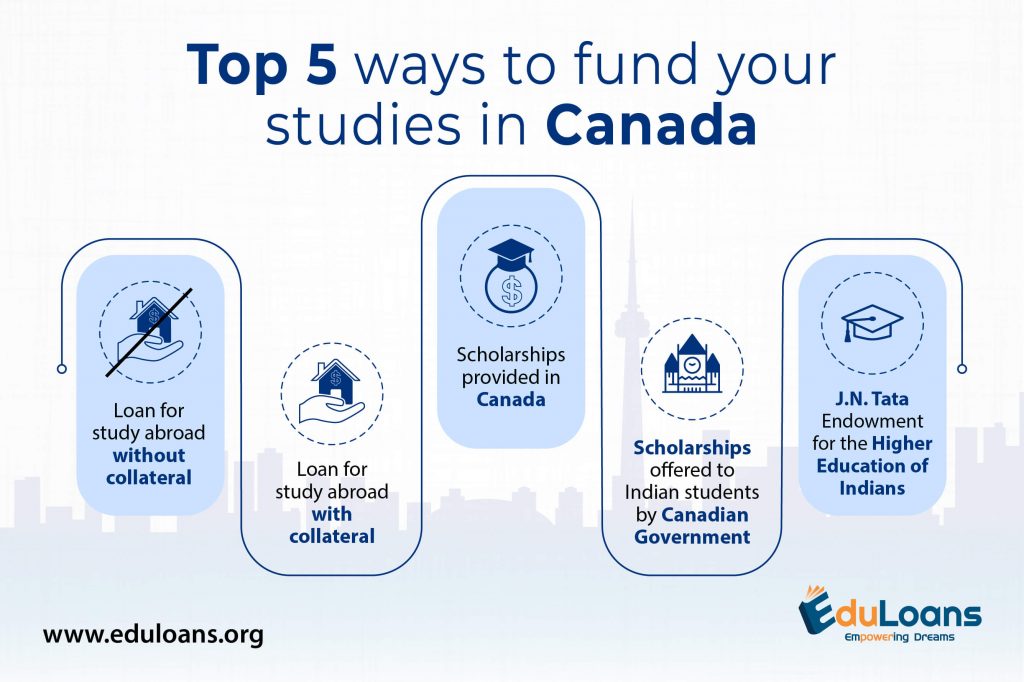 Indians are a huge part of Canadian education sector and a fact that in 2018, the number of Indian students studying in Canada grew by 40% is a testimony of the statement. Two years ago, the number of Indian students studying in Canada reached the benchmark of 172,600, which makes our country of the leading senders of its students there. This is even ahead of China. Given this rising popularity of Canada among Indian students, there are various options made available for Indian students if they wish to study there. Here are your top 5 ways to fund your studies in Canada.
The table below gives you your options of banks that allow for collateral-free study loan for Canada.
Features
Public Sector Banks
Private Banks
NBFCs
Example of the Lenders
None
Axis Bank, ICICI
Avanse, Incred, Auxilo, Credila
Loan Amount (INR)
Check with each bank for loan amount.
Upto INR 40 lakhs
Upto INR 25 lakhs
Interest Rate Range
11.5%-13.5%
12%-16%
Processing Fees (INR)
Check with the bank for latest figures or get in touch with Eduloans.
1%-2% loan amount
Number of Colleges Supported
Listed in bank's annexure
Listed in bank's annexure
ICICI bank is very aggressive and provides unsecured  study loans for Canada for Post graduate courses. Please reach out to EDULOANS to understand Eligibility requirements.
2.  Loan for study abroad with collateral
Study loan for Canada is readily available if you are willing to pledge a collateral, such as property or equity or whatever is applicable with the bank. Here is a table that gives you your options.
| | | | |
| --- | --- | --- | --- |
| Features |  Public Banks   | Private Banks | NBFCs |
| Example of the Lenders | SBI, BOB | Axis Bank, ICICI Bank | Avanse, Incred, HDFC Credila, Auxilo |
| Loan Amount (INR) | Upto INR 1.5Cr | Upto INR 60 lakhs | Upto INR 60 lakhs |
| Interest Rate Range | 9.2%-10.5% | 11.5%-13.5% | 12%-14.5% |
| Processing Fees (INR) | INR 11800 |   INR 0 for less than INR 20 lakhs loan amount and, INR 750 on each lakh above INR 20 lakhs. |  1%-2% loan amount |
|  Repayment while studying | None | Simple Interest | Simple Interest |
3.  Scholarships provided in Canada
Due to the rising popularity of Indian students in Canada, there are various scholarship options that you can explore. Apart from study loan for Canada, you can check out a range of grants, bursaries and scholarships that are provided by universities in Great White North.
4.  Scholarships offered to Indian students by Canadian government
Apart from the university that you have applied to, you may also explore your scholarship options with Canadian government, private establishments as well as public entities that are willing to sponsor or fund your education there.
5.  J.N. Tata Endowment for the Higher Education of Indians
While a loan for study abroad is one of the most popular ways to fund your education in Canada, another popular option is checking with Tata Endowment. It offers an aid amount from INR 1,00,00- INR 10,00,000 to meritorious students. The amount is made available to those students who are willing to study for a course of over 2 years. The condition is that a student must have secured at least 60% in the last academic examination.
Eduloans can help you explore more options and know everything about loan for study abroad or scholarships for Indian students. Canada has become the No 1 destination for International Students and lets look at the best ways to fund your education. You may get in touch with our loan experts here, to know more.