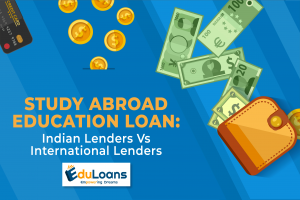 One of the main concerns for students who wish to study abroad is funding as the process of borrowing study abroad education loans is significantly daunting and time-consuming.  The cost of studying abroad makes it unaffordable for many who have a middle-class background. Hence most students from India in order to study abroad take an education loan. We have 7 Indian lenders and 6 Overseas lenders on our platform who are looking to provide study abroad education loans. In this blog post, we shall showcase how interest rates of Indian lenders and international lenders play an important role in determining the reliability and the quality of services rendered. Take a Look!
1.  Interest Rate comparison:
International Lenders: Interest rates for study abroad education loans of international lenders like Empower Finance, Leap Finance and Prodigy Finance are calculated as per the benchmark rates called LIBOR (London Inter-Bank Offered Rate). The LIBOR is an average value of the interest rates of different banks and NBFCs located globally. The table below displays the progress in LIBOR interest rates which is increasing rapidly. This table gives a clear understanding of the rate fluctuations in recent years.
LIBOR (USD)
Year
LIBOR rate
2014
0.5%
2018
2.3%
2019
2.8% (now)
2020
1%
Interest Rates for Indian Lenders – The study abroad education loan interest rates in India is calculated on the basis REPO Rate which is as follows
MCLR (INR)
Year
REPO rate
2011
6.5%
2019
5.4%
2020
4% Now
Interest Rate Parity: What is important to be considered while deciding between Indian lenders and International lenders is interest rate parity. Education loans of international lenders are decided on the basis of the USD and for Indian lenders, they are determined on the basis of the Indian rupee. The difference in values of both currencies significantly affects the study abroad education loan interest rates of both types of lenders. Hence internationally the rupee depreciation an average 4% against the dollar. Hence in order to compare both we generally add a 3% premium on Dollar rate to make it comparable for Study abroad education loan
2.  Process:
The second thing which changes is the process. For an international fund the study abroad loan process is completely online and hence it becomes easier to apply for the loan. As well there is generally no upfront fees and hence sanction comes out faster. With regard to Indian Lenders they require all the documents to be self-attested generally in front of the executive. Hence the process becomes slightly longer.
Hence as per Eduloans its always a Cost Vs Convenience tradeoff for a Study abroad education loan. In most cases unless specified the Indian lenders are more cost effective but international lenders are very convenient. If you too are confused about which bank to choose from, seek assistance from one of the expert counselors of Eduloans who can help you determine the best choice as per your case and needs. We make sure that the students are not trapped in heavy interest rate loans and get the best and cheapest loans possible. So, hurry up and call us today to get the best study abroad education loan.