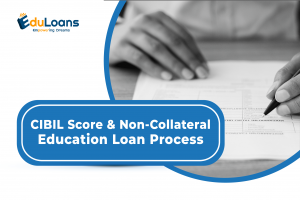 The non-collateral education loan in India for study abroad process is pretty simple and straight-forward because it does not involve huge paperwork. Non-collateral loans are significantly beneficial for students who want loans within a short period of time or for candidates who do not possess assets of a valuable market price. Although the unsecured loan process sounds like a cakewalk, when students actually start the application they come across various hurdles. This blog post will highlight the common issue faced by the candidates in their non-collateral education loan in India for study abroad process which is the candidate's CIBIL score.
CIBIL Score Issues
Most of the NBFCs and private banks are extremely rigid regarding the CIBIL score which plays a significant role in the non-collateral education loan in India for study abroad process.
What is a CIBIL Score? How is it calculated?
CIBIL (Credit Information Bureau of India Ltd.) is an organization that keeps track of an individual's credit information and calculator a score on its basis. This score is used by most NBFCs to determine the reliability of the applicants. A CIBIL score is calculated on the basis of the loan transactions made by candidates. If the score is good, the candidate is more likely to get the loan easily.
Under what circumstances will my CIBIL score be affected?
One of the important points to consider is that the CIBIL score is never stable and keeps varying depending on the credit transactions conducted. When we borrow a loan (personal, car, education), our CIBIL score is affected and keeps on decreasing and increasing according to the pattern of your loan repayment. Failure to repay your pending loans will lead to a bad CIBIL score and reduce the chances of getting non-collateral education loans for foreign studies.
What is the benchmark CIBIL score that a candidate needs to maintain in order to qualify for a non-collateral education loan?
For the unsecured education loan process, individuals having a CIBIL score of 700 and above are mostly given preference by lenders. It is important for both co-applicants, as well as loan applicants, to maintain this score to undergo their education loan process without significant issues.
Will a low CIBIL score hamper my chances of getting an education loan?
There are chances that your low CIBIL score may affect your chances of getting a non-collateral education loan and therefore all the candidates are required to meet the CIBIL score benchmark set by the lending institution for a hassle-free education loan in India for study abroad process.
The Bottom Line!
This blog post covers all the major issues that a student can have related to CIBIL score while taking an education loan in India to study abroad without security but still if there are queries, you can anytime connect with Eduloans where our financial team has been helping many students having significant CIBIL related issues in their unsecured education loan process since quite some time. We have been helping students to get the best loans for their higher studies for years by providing them a prominent platform whee they connect with various financial institutions. We also assist them with all the documentation and paperwork necessary to get a hassle-free loan. So hurry up and call us today or simply register on our website and wait for a callback with the team for support and assistance.