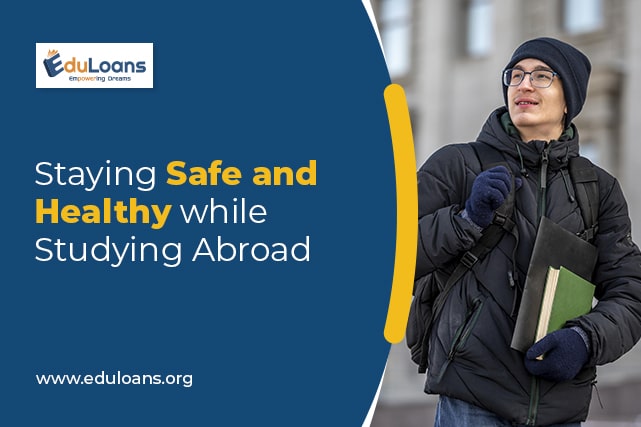 Getting an approval for studying abroad in the times of pandemic seems like a vulnerable decision for now, but it couldn't be safer than in India. After you've gotten admission and your finances in order in terms of your study loan for abroad, the next step is to plan your big move! More than getting the loans for students studying abroad, the parents are concerned about safety, security and health of their children. Indian parenting and societal setup works in a particular order whereby the concept of joint family is prevalent. But when the students decide to move abroad for studying apart from financing loan through study loan for abroad, the major concern remains health and safety when the students are all by themselves.
Prior exposure to traveling and studying abroad is an opportunity that not many students get. Therefore, you must go there fully prepared while also reassuring your parents of your safety and health. A responsible student can excel at their study with excellence. For that, you must act and behave with accountability towards your own self. Here are a few tips to stay safe and healthy while studying abroad.
Educate yourself about the host country's food palate
While it may be interesting to explore the new cuisines and flavours of other country, you must first educate yourself regarding the palate of the host country. This food is certainly going to be different and to avoid getting sick, you must practice moderation first. Do not try to gulp everything down in a go. Determine and explore the problems of local food supply or water. Do not attempt to eat from the consultation of local expert unless otherwise testified by your education counsellor or someone very reliable. Study loan for abroad covers money for Food but that does not mean you can splurge.
Practice safe sex to avoid STDs transmission
To stay safe and healthy, you must practice safe sex and be wary of intimacy with complete strangers. The last thing, especially in the times of pandemic, you would want to contract is hepatitis B or AIDS or other sexually transmitted diseases.
No solo traveling at least unless you know the geography of the region well
Often on the bucket list of most students after they've got their study loan for abroad, is solo traveling. No matter how adventurous it may sound, it can be dangerous for a completely new person in the faraway land. Having a fair knowledge about the geography of your region is a must. Apart from that, you can get in touch with local students and see if you can trust them enough. Only after you've explored a few places with others, can you think of solo adventures.
Take care of your Mental and Physical Health
Studying abroad is lonely and many times students can fall prey to mental depression which can negatively affect the studies and well-being. It's important to keep communication with your parents . As far as financial providers those who have given study loan for abroad take update from the student based on every semester mark sheet.
 Get vaccinated
After loans for students studying abroad have got a green signal, you must see if there're some vaccinations you must get before or after you land in the foreign destination. This tip is especially recommended if your host country is an exotic destination. Talk to your seniors if there are specific vaccinations mandatory for your stay there. A lot of diseases can be carried by local insects and bugs. Know about them and get vaccinated.
Eduloans for all nitty-gritty details
While Eduloans is known for study loan for abroad, our education counsellors and allocated relationship manager can assist students with all such tips and tricks to stay safe and healthy in foreign location. You can get in touch with us to learn all street-smart tricks to be safe, while also know about must-dos to keep yourself healthy while studying abroad. The Loans for students studying abroad as well provides cover for insurance which is mandatory for most countries.