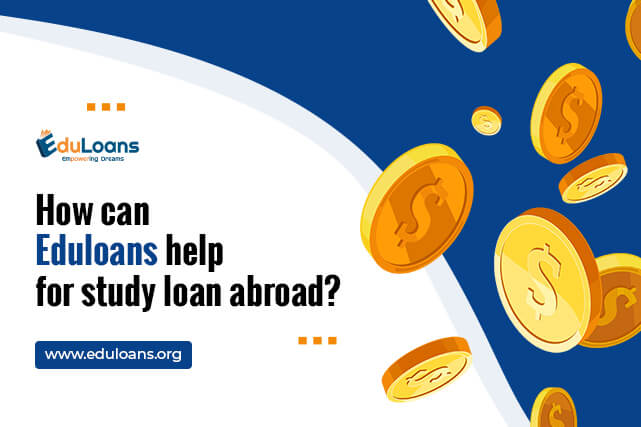 Studying from the top universities in the world is a distant dream of many Indian students. One must build an excellent profile to get accepted in the dream college or university so as to treasure this dream. Exams such as GRE /GMAT/SATare of utmost importance to be accepted in the college. Apart from this, excellent GPA is a mandatory condition too. After you're accepted in the university of your dream, the next roadblock that sits in the path is how to finance overseas education? The exorbitant cost of education and living in a foreign land is a complexity that can be managed with the help of education loan in India for study abroad. Eduloans can help people with study loan abroad in various ways.
Problem solving by problem understanding
Eduloans gives one-on-one counselling to each student. Every profile is unique in its own way. At Eduloans, loan manager is assigned to each profile. The process begins when you send in the query, after which Eduloans reaches out to the student/ professional who wishes to go abroad for study. After understanding each profile, Eduloans understands the complexities and provides customized overseas education loan online solutions.
Eduloans understands your profile and guides on the eligibility of0set by the various Lenders. Once the dedicated overseas loan counsellor at Eduloans finalizes which banks to apply for Eduloans as well sends you the application form and the checklist. The applicant should fill up the Form, complete the checklist and connect with the dedicated RM from each lender. The entire process for study abroad education loan is very digitalised and reduces the turnaround time by over 40%.
Once you start getting the offers Eduloans helps you to close on the best education loan in India for study abroad based on Cost and Convenience. Eduloans helps you negotiate with the lenders in the best way possible and we proceed towards disbursal documentation.
Eduloans as your study loan abroad partner in COVID times
Many students and professionals have had their dreams temporarily shattered when pandemic first hit India in March 2020. For a lot of students the process of going abroad and studying went down the hill. For a number of professionals, layoffs weren't a pleasant scenario. Those who had applied for education loan in India for study abroad independently are still trivialized by their plight.
First and foremost, you must know that COVID-19 had an immediate, but temporary impact on the number of students going abroad to study. In fact, the pandemic has given a good chance to professionals to unrush from their job and enhance their knowledge through professional or technical courses. As much as Eduloans stands with the world community in global solidarity, we still have the back of each student who applied for study abroad education loan through us. Our process still remains smooth and we take all that it takes to ensure that students have a plane transit to their dream campus from India.
We have over15000+ students on our platform and we cater to over 1000 students year on year.We ensure that you are provided the best hassle-free service in town to get the most economical education loan in India for study abroad through our trusted partners.
What makes Eduloans different?
Eduloans is the first and the only digital platform to build API integration facilities with major banks of India. This ensures that each student who applies for study abroad education loan gets it without rushing to the banks for nitty and gritty. The overseas education loan online platform is comprehensive using the correct machine learning algorithms to help you ascertain your exact requirements. Serving students through the digital framework, Eduloans can help you with study loan abroad in the fastest and simplest manner.