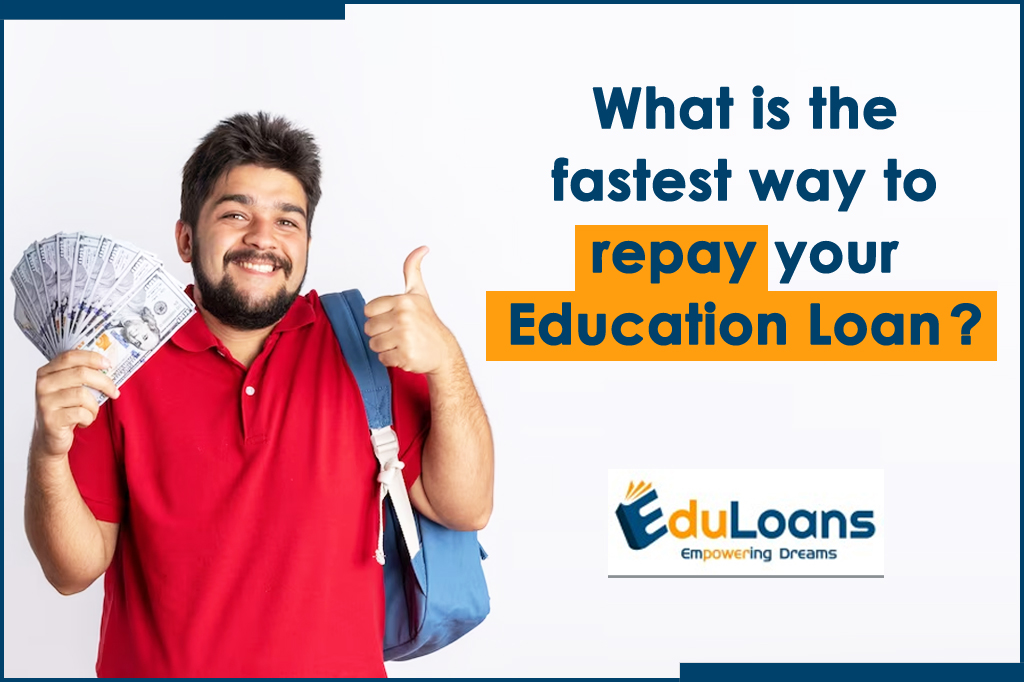 What Is The Fastest Way To Repay Your Education Loan? 
An education loan is indeed a windfall for students who desire to attend further studies but cannot finance to do so on their budget. Many people sell family belongings, including gold, to fund their higher education. With the aid of study abroad education loans, students and their families can easily preserve these priceless possessions while financing education.
Leading lenders in the country provide education loans to cover various courses. However, whatever form of student loan you decide to take out, you must have a reliable loan repayment schedule in place.
Here are a few tips to assist you in paying off your student loan debt ahead of time!
Best Tips to Repay Student Loans Early
Planning and execution are necessary to repay the student debt before the deadline. Let's look at how you should pay off the loan early—
Pick a suitable repayment approach
Choosing the appropriate education loan repayment plan is the best method to manage student loans. You will have several repayment choices from your lender. Pick the option that fits your budget the best. You must be mindful of the duration of your moratorium. This will allow you to calculate the time you have left to obtain employment and save savings before your first EMI is due. 
Consider how much you may expect to make in your first job. Such measures can help determine the appropriate tenure and EMI. Without strategic forethought, you may opt for a considerably higher EMI that can be tough on your budget, resulting in late repayments.
Select a loan with a shorter term
A brief tenure is a great choice to manage and repay the loans early. A shorter duration can see you pay larger EMIs, but it will also assist you in saving a lot in interest charged toward your loan through early loan repayments. This does not imply that you should overspend and choose exorbitant EMIs. Instead, go with the shortest tenure you can handle. Use an EMI calculator to determine the amount you can afford to pay monthly.
Pay down part of the interest during the moratorium
Your installments don't commence instantly in the case of student loans. They start after the moratorium is over. The moratorium is a six-month or one-year period that commences when you complete your program. Even though your payments won't start until the moratorium is over, your education loan's interest will accrue periodically. Therefore, paying this interest early would be ideal for swaying the heavy financial burden after the moratorium. Early payment of this simple interest will result in significant savings on the total amount you pay back to your lender.
Think about a balance transfer
To obtain lower interest rates, you can also check into loan transfers. Use a balance transfer option if your current bank didn't agree to a reduced interest rate after negotiations. When you select a lender that allows you a low-interest rate on the remainder of your education loans, you can save a significant amount on interest costs. You can keep your EMI the same while saving more on interest payments. This will assist in shortening the duration and lowering your interest payments. A reduction in the EMI amount would subsequently result in early loan repayment.
Build an income source
You can begin working part-time and start saving money before the repayment period. Your savings will enable you to pay off a portion of your debt early. You may schedule the component payments and plan your loan repayment using an EMI calculator, enabling you to pay off the loan early.
Empower Your Dreams With Us!
We at Eduloans assist you in discovering more choices and easy repayment methods. We strive hard to give students a platform where they can easily select the finest funding options for their overseas education and bring their goals to life without any financial hang-ups.
Get in touch with our loan specialists and discover the right debt for your desires!