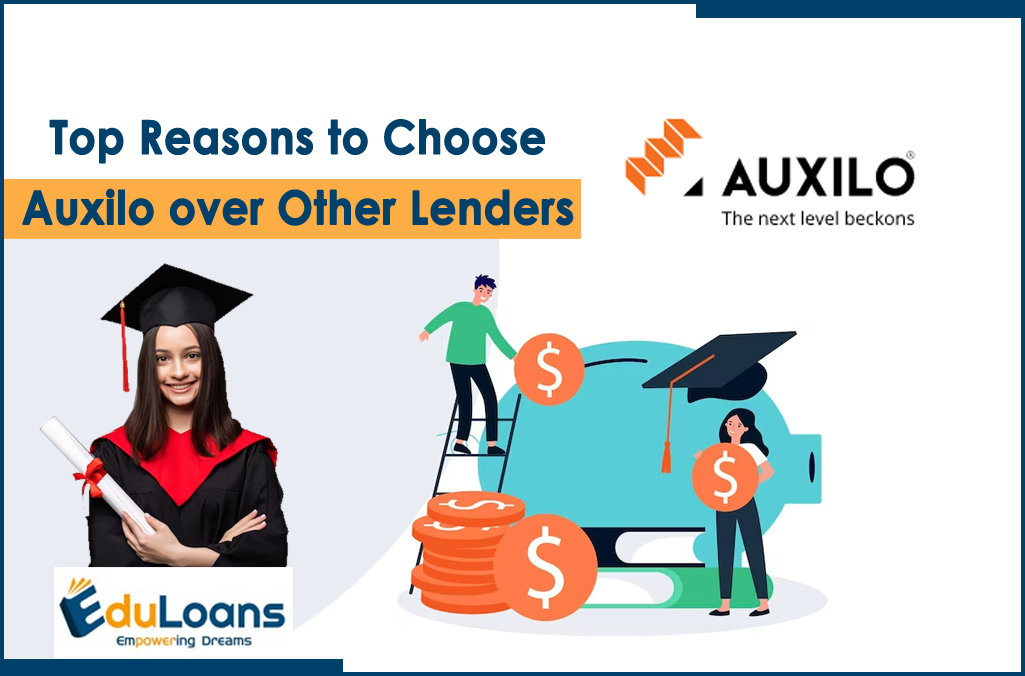 Top Reasons to Choose Auxilo over Other Lenders 
India has a long history of skewed credit structure that only worked in favor of a handful of people. However, since liberalization, the Indian credit structure has improved significantly, making it a level playing field for every person. One of the biggest profitable aspects of the Indian financial market is the education loan. Today, education loans are not restricted to collateral but also offer collateral-free education loans. Apart from public and private sector banks, Non-banking Financial Corporations or NBFCs play a major role as financial lenders in providing education loans to aspiring students struggling with financial aid.
Auxilo is one of the leading and renowned NBFCs that provide education loans at attractive interest rates. Auxilo education loan offers financial assistance to students for pursuing their education abroad. Auxilo has a custom repayment tenure procedure, making it easy for borrowers to prepare their tenure period as they desire.
Let us understand what Auxilo is and why Auxilo education loans are better than other financial lenders.
About Auxilo
Auxilo is an education loan-providing registered NBFC. Auxilo focuses on financial aid to students to receive a quality education. Auxilo offers innovative financial solutions to students to study in colleges and universities overseas so that they become remarkable minds. Auxilo takes pride in nurturing millions of aspiring students and associates with hundreds of educational institutions to prepare for the world.
About the Auxilo Education Loan scheme
Auxilo offers education loans abroad at attractive interest rates. It is reflected in the reviews given by students, parents, professionals, and others who understand the abroad education loan operations.
Why should you Auxilo for an education loan?
Some of the benefits of education loans from Auxilo are as follows.
Complete Financial Assistance 
Non-Banking Financial Corporations like Auxilo provide holistic financial assistance regarding overseas education. The education loan is the central financial product of Auxilo, and the institution is committed to delivering it to diligent students.
Attractive Interest Rates 
Auxilo provides attractive interest rates on education loans. The interest rate of education loans ranges between 12% to 16%. However, borrowers need to know that the interest rates may vary depending on the borrower's history, the university/college selected, and the program selected for the study.
Satisfying Education Loan experience
Every student has a different need. Therefore, Auxilo provides ideal education loan schemes that check all the requirements boxes. Customizing loan options help students get loans without fitting into any specific criteria. 
Fastest Loan sanctioning
Foreign universities allow admissions pivots on students' "proof of funds." In countries like Canada and New Zealand, students must first furnish loan sanction documents for visa disbursement. Auxilo understands this and helps by early loan disbursing and living expenses. It also enhances students chances of getting into their preferred university quickly. 
Tailor-made repayment options
Auxilo understands that students' educational requirements differ. Therefore, Auxilo provides ideal education loan schemes that check all requirements. Under this repayment procedure, the borrowers can present their repayment tenure options that fit according to the policy of Auxilo.
Documents required for Education Loans from Auxilo
Applicants and co-applicants must submit various documents when applying for an education loan from Auxilo. The list of documents to be submitted follows:
Identity Proof
Identity documents

Valid Passport

Birth Certificate

Academic Documents, which include 10th & 12th mark sheets.

Graduation certificate

Financial Documents

Bank statements
Post-Disbursal Documents
Fee receipts

Consent of co-applicant
For Co-applicants:
Relationship proof 

Collateral documents, if the loan is taken against security.

Income proof

Bank statement for the past eight months

Signature 

Identity proof

Residence proof

Colored passport-size photographs

 
Final Thoughts
Education loan processing is time-consuming. NBFCs are the top pick for borrowers regarding education loans abroad. As a result, financial lenders like Auxilo are providing education loans at attractive interest rates. At EduLoans, our counselors cater to your requirements, assist in preparing documentation, and help you easily secure an education loan from Auxilo. So, take a step toward your dream. Contact us and get more information.