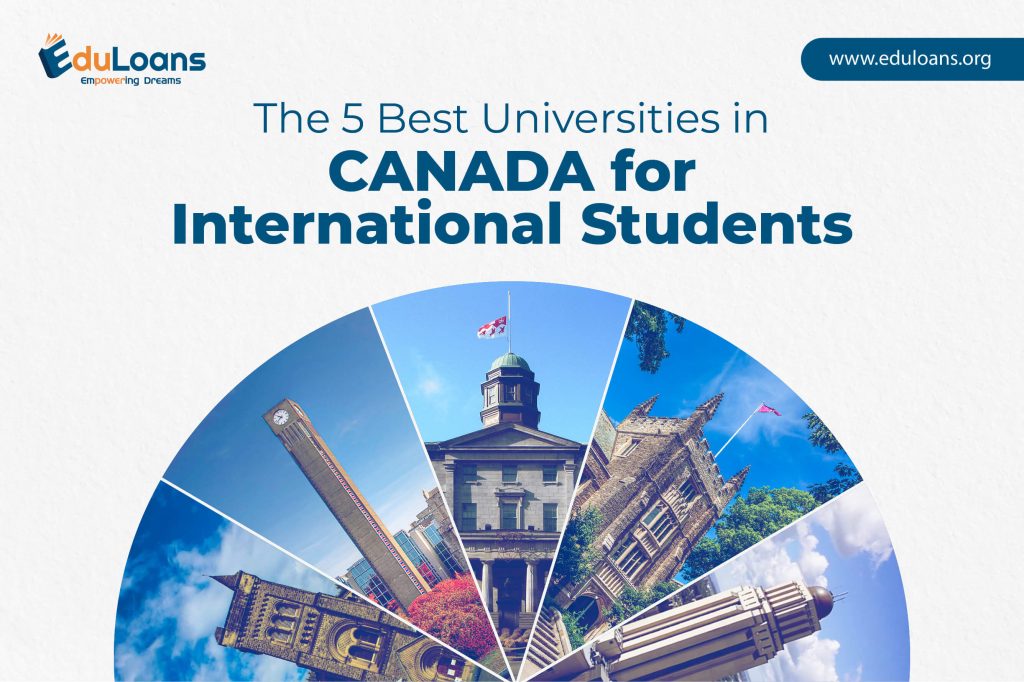 Canada, often nicknamed as The True North, inhabits some of the top universities in the world that offer exceptional opportunities for higher learning.These schools offer a multitude of programs that will appeal to students who are searching for the best universities in Canada for international students. However, Canadian higher education tends to be on the expensive side, and getting loans for students studying abroad is an arduous task. Edu Loans offers tailor-made study loans for Canada to alleviate the financial distress of students and empower their dreams.
University of Toronto
According to "The Times Higher Education Best Universities in Canada 2020 Rankings," the University of Toronto ranked 18th globally and the top university in Canada. Structured like a collegiate system, it is one of the most diverse campuses with students from over 160 countries. Renowned as one of the top-notch schools in Canada for medicine, it holds to its credit the discovery of insulin by renowned Nobel laureate, Frederick Banting.Notable alumni include five Canadian Prime Ministers and writers Michael Ondaatje and Margaret Atwood. In case you are looking to study at the University of Toronto, a study loan for Canada is a breeze. You can be looking at both secured and unsecured loans with or without a cosigner to pursue your dreams.
University of British Columbia
It ranks second in the list of top 10 Canadian universities and 34th globally due to its reputation for research, eminent alumni, and scholarships available for international students. It's an expensive university, but study loans for Canada are easily available. With two campuses – one in Vancouver and one in Kelowna, it boasts of a much milder climate than the rest of Canada and offers proximity to beaches and mountains. Housing a slew of  prominent people and having produced many scholars and athletes – 3 Canadian Prime Ministers, 8 Nobel prizewinners, 65 Olympic medalists and 71 Rhodes scholars, it is unrivalled in prestige. Loans for students studying abroad are easily available for UBC.
McGill University
The only Canadian university represented in the World Economic Forum's Global University Leaders Forum, Montreal's McGill University ranked third in Canada and 42nd globally, according to Times Higher Education. Famous as a medical school, McGill established Canada's first faculty of medicine, which attracts international students to the iconic campus with a unique aesthetic consisting of grey limestone constructions. Offering more than 300 degree subjects to more than 31,000 students, from 150 countries, McGill is one of three universities in Quebec at which one can learn in English. Nearly a quarter of the student body is from overseas, and most students take study loans for Canada.
McMaster University
The fourth-ranked Canadian and 72nd globally-ranked university, located in Hamilton near Toronto on 121 hectares of land, is beautifully situated and is a close 15-minute drive to the Royal Botanical Gardens. It readily accepts international students, many of whom are drawn to its well-known medical school. Students and faculty come to McMaster from over 90 countries, and the university has established around 70 international exchange agreements with universities around the world. Other well-known faculties are engineering, business, humanities, social sciences, and science. McMaster is also formidable for its research work, particularly in the field of health sciences. While the student can look for a research internship, an education loan for students studying abroad is a very important stepping stone to fulfill one's dream.
University of Montreal (Université de Montréal)
The University of Montreal is ranked fifth on the list of best Canadian universities and 85th globally. The only francophone university in the top 5, this school is located in the architecturally beautiful city of Montreal, and the main campus is located on the slopes of Mont Royal. Sports are popular at this university, particularly badminton, football, and hockey. It is famed for its many business graduates and for graduates noted for their contributions to scientific research. Former Prime Minister Pierre Trudeau, as well as 10 premiers of Quebec, are counted as distinguished alumni. Study Loans for Canada are easily available.
Canada has become the dream destination for many students. Top universities in Canada like the above offer excellent education but are expensive. Majority of the students seek study loans for Canada where Edu loans plays a pivotal role. Edu loans has all types of lenders which include secured and unsecured as well as with or without Cosigner. Please let us solve any financial problem you may have related to loans for studying abroad.