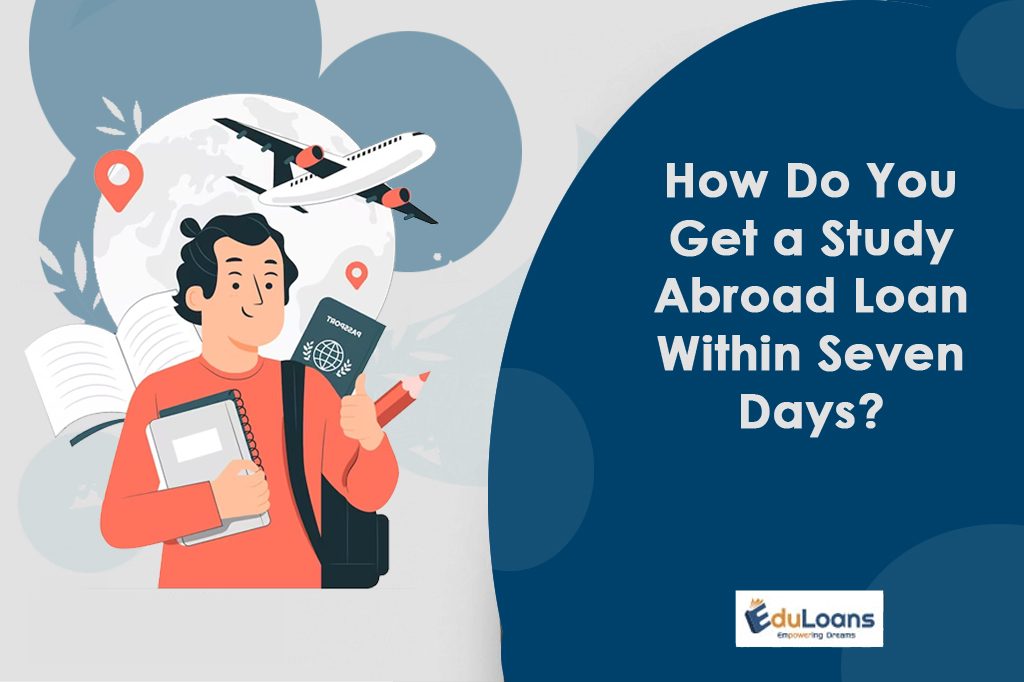 How Do You Get a Study Abroad Loan Within Seven Days?
There is no better investment than education. Financing education adequately can yield a quality of living in the long haul. An education Loan assists in making up the economic gaps for your higher education. It provides an alternative to using personal funds to pay for college expenses.  
However, getting a study loan from a reliable source can be long-delayed. Education loan services, like mortgages, are generally regarded as good debt and have long cycles of documentation and applications. 
To help you finance your dreams in time, here are a few ways to accelerate the process and have your loans approved within seven days.
Apply to Well-known Universities and Colleges
Every lender has a recommended and blocklisted database of educational institutions. They are more willing to lend to applicants who have applied to reputable colleges.  Before providing a loan, several lenders require that the student has obtained college acceptance. Hence, applying to recognized institutions and obtaining an admission letter without failure will speed up education loan approvals.
 Keep a Good Academic Standing
Student loan providers prefer excellent candidates. A stellar academic record demonstrates the student's dedication to pursuing a career. Furthermore, exceptional students are hired by good organizations through on-campus recruitment drives. This provides the lender confidence that repayments will be made on time and encourages quicker loan approvals.
Choose a Course with a High Market Interest
Every lender considers if the course the candidate wants to pursue is in high demand in the market. The lender wants to determine if the applicant can get a good career after graduation, and they prefer to invest in rising professions. If the applicant is struggling, it will be difficult for them to make timely loan payments.
The student loan repayment period could continue for up to ten years. Hence, choose a course in a field with a high potential for future growth. As the applicant begins working, there will be other expenditures and financial goals to accomplish in addition to loan payback.  Choosing the appropriate course can improve the legitimacy of your application and result in speedier approvals.
Keep Your Documents in Order
Provide all essential documentation while submitting your Education Loan application. Add any facts you believe will help your case and expedite the process. For example, if you hold a scholarship, provide a copy as proof. A scholarship boosts your chances of being approved for a student loan.
Pledge Collateral While Taking a Loan
Collateral pledged reduces risk. Such loans are classified as secured by the lender. The interest rates on protected education loans are lower. Collateral can be both moveable and immovable. Fixed Deposits are considered Moveable Collateral, while Property is considered Immovable Collateral. Property types approved include apartments, homes, non-agricultural lands, and enterprises.
Provide the necessary set of paperwork to the lender if you pledge collateral. Ascertain if the estate's title deed is accurate. Providing secured collateral can accelerate your sanction of a desirable study loan.
Add an Authentic Co-applicant to the Application
In the Education Loan application form, the student must include the name of a co-applicant. Family members are frequently accepted as co-applicants by lenders.
The credentials of the co-applicants are investigated. Their tax returns, verification of consistent income, and a strong credit history are all required.
A co-applicant is required when applying for an Education Loan. During the course, a co-applicant pays the interest. This avoids interest from stacking up on the accrued interest. It lessens the student's EMI burden and fastens up the approval cycles.
How Can We Help?
At Eduloans, we strive to create a platform for students to discover the finest funding sources for their higher education. We streamline your resources and assist you in establishing a rewarding career by bridging the divide between lenders and students!
Register with us today and get a swift solution to your financial concerns!