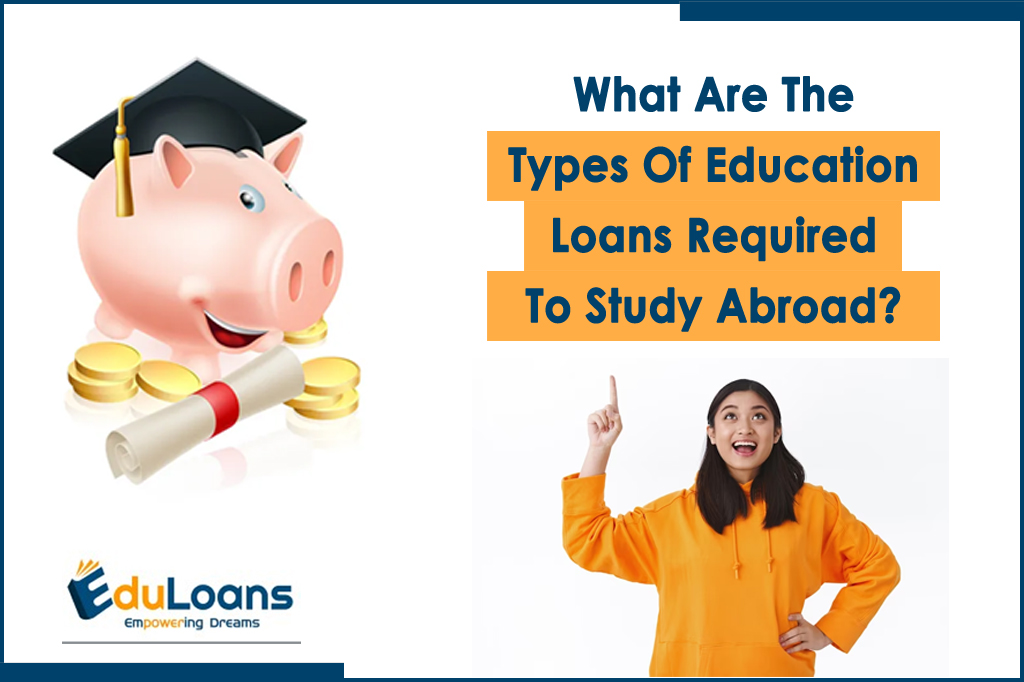 What Are The Types Of Education Loans Required To Study Abroad?
Every student worldwide desires a degree from a reputable educational institute abroad. It acts like a launch pad and provides a kickstart to a successful professional career in any domain that few domestic educational institutes can. Therefore, it is not surprising that students aspire to higher education abroad. But getting overseas education is not everyone's cup of tea, which is why education loans for overseas studies act as a savior in such a situation and help students fund their studies. However, understanding the education loan and choosing the right option can be herculean. 
It is often recommended that students and parents contact an overseas education counselor who can comprehend the education loan products. The first step is understanding the types of education loans for abroad studies.
Let's look at the types of education loans and understand how they can benefit you. 
Collateral Education Loans
In layman's terms, collateral means pledging assets against loans. A collateral education loan implies pledging your assets against an education loan. Now that we understand the basic concept of collateral education loans, let's look at the types of collateral education loans.
Types of Collateral Education Loans
Secured

collateral education loans
A secured collateral education loan is where the applicant has to offer tangible or intangible assets. The assets pledged to the lender can be in the form of a house, Fixed Deposit, or LIC insurance policy. A collateral education loan takes longer for approval as the bank verifies all the documents related to the collateral. Yet, it has lower interest rates, longer repayment periods, and no repayment during the study duration. A collateral education loan has a higher chance of being approved, and parental income is not a determining factor for loan approval.
Unsecured

collateral education loans
The applicant does not have to pledge assets in an unsecured collateral education loan. This education loan is best if students do not have any security to offer. However, applicants should remember that an unsecured collateral education loan has a higher interest than secured loans and is harder to approve. Unsecured education loans also have a shorter repayment period and require some repayments during the study duration. In addition, a minimum co-applicant income is mandatory for education loans in an unsecured collateral education loan.
Non-Collateral Education Loans
Non-collateral education loans enable students to enroll in a degree of their choice with a low budget. Banks offer education loans without collateral for loans up to a specific amount. So, if you don't have ample resources to present, a non–collateral education loan will benefit you. 
Public Sector Banks
Public-sector banks provide education loans to study-abroad aspirants, as per the amounts set by the authorities. Students can get loans up to INR 7.5 Lakhs from government banks. For more amounts, applicants need to provide collateral as security. Public-sector banks offer better interest than private banks. Some of the major public-sector banks offering abroad education loans are:
Private Sector Banks
Private banks offer secured and unsecured loans for studies abroad. The amount that can be sanctioned depends on various factors such as chosen country, degree program, financial profile, etc. Private-sector banks offer higher interest rates than government banks and better than NBFCs. The time taken to process an education loan from private banks is less than that of government banks. Some of the major private-sector banks offering abroad education loans are:
Non-Consignor Education Loans
Banks need assurance from those taking the loan that it will not turn into bad loans in cases of non-repayment. Thus, students need someone who can act as co-applicants or consignors. A consignor ensures that the criteria set by the financial institutions are fulfilled and the chances of revival of the loaned amount are adequate if a student fails to repay the loan post-completion of his studies. 
But this term is no longer a problem in non-consignor education loans as those whose parents or a close relative can't be in the capacity of a consignor. So, suppose a student doesn't have a consignor. In that case, there is not much to worry about, as a few options are available for processing a considerable portion of the tuition fee through loans without needing a consignor.
Final Thought
Student Education loans can help you cover the cost of higher education. However, due to several types of loans, you may get confused. That's why EduLoans provides complete assistance in selecting the right loan from a credible source. Register now for more information or give us a call at +91 7045997710 / 7045864794.