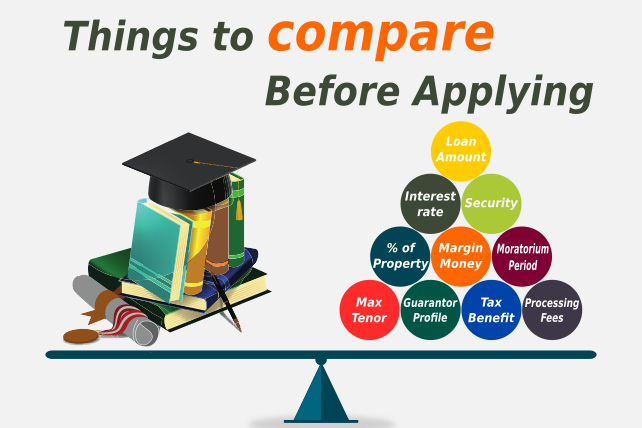 There are many points that we should look at while selecting the right education loan for ourselves. All the financial institutions in the market have certain advantages and disadvantages
Loan Amount – The loan amount varies with each service provider. There are separate limits for secured and unsecured loan.
Interest rate – The interest rate is generally variable depending on the MCLR (Marginal cost of funds based lending rate) for banks and BLR (Base Lending Rate) for NBFC. It is generally noted that nationalized banks are more economical than NBFC on the interest rate offered.
Consideration on basis of Security Required – It is important to note the loan is provided with or without security, with or without guarantor. There are options available where in you could look for a loan without guarantor or security provided.
Percentage of Property as Security – Most financial institutions offer loan at a particular percentage to property value provided. Incase one is looking at maximum loan this becomes an important parameter for comparison.
Margin Money – Margin money is the money which the financial institution request you to put as your own fund. Certain financial insist on margin money and some fund the complete amount as per your requirement.
Moratorium Period For Repayment Of Interest & Principal – Certain financial institutions provide interest rate flexibility during the period of study. This is very helpful, as the repayment does not overburden the parent before the student finds a job.
Maximum Tenor/Repayment – As the EMI calculation is based on the maximum tenor of the loan it becomes an important parameter of comparison. In case you are looking for gradual repayment please select the maximum tenor available.
Co-signor/Guarantor Profile – Although most financial institutions look at IT returns, CIBIL Score and future income of parents they rate the same parameter differently. The different criteria becomes an important parameter of comparison.
Income Tax Benefit Under section 80E – The section allows unlimited rebate for the co-signor. Please check whether the service provider is a beneficiary of the scheme or not.
Processing Fees – The same can be Upfront refundable/non refundable, Amortized or simply waived. Its also sometimes negotiable. This adds to the cost of the loan and is a critical parameter for comparison.
Point of Service – The financial institution could have complete online application, door to door service or you visiting the counters of the financial institution. It depends on what level of customer service are you ready to pay as the charges increase if door to door service is provided.
Additional Charges – There are generally hidden charges such as insurance, property valuation, legal verification, stamp duty etc which need to be considered when evaluating the complete loan.
Turn Around Time – This is one parameter which you should not overlook as sometimes the time is short for the fees payment into the college.