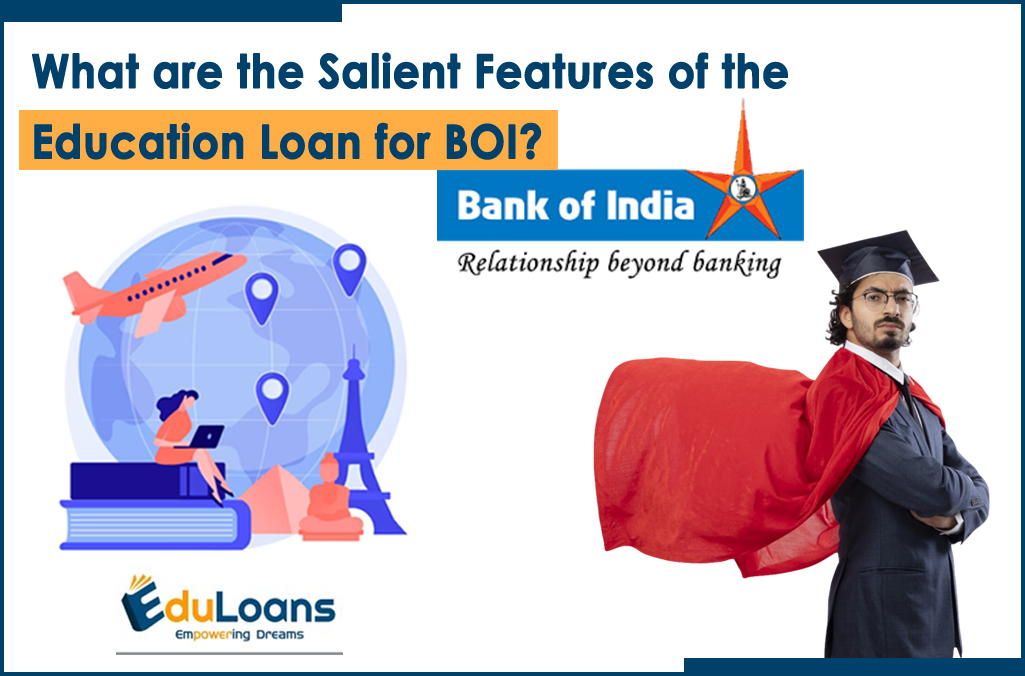 What are the Salient Features of the Education Loan for BOI?
Bank of India (BOI) is one of India's leading public sector banks that provides its customers with a wide range of financial services. One of the services that BOI offers is an education loan to students who wish to pursue higher education in India or abroad. BOI's education loan to study abroad has several salient features that make it a preferred option for students looking to fund their education.
Here are the key features of the education loan from Bank of India –
Bank of India Eligibility Overseas Education Loan Criteria 
BOI has defined the eligibility criteria for students who wish to apply for an education loan. The student must be an Indian national and have secured admission to a recognized course in India or abroad. Additionally, the student should have a good academic record and must have a co-borrower who is a parent or guardian. The co-borrower should have a steady source of income to repay the loan.
Loan amount
BOI offers education loans ranging from Rs. 10 lakhs to Rs. 30 lakhs, depending on the course and institution chosen by the student. The loan covers tuition, hostel fees, books, equipment, and other related expenses.
Margin
Bank of India requires the student to bear a certain percentage of the total expenses, known as the margin, while the bank covers the rest of the expenses through the loan. The margin varies from course to course, ranging from 5% to 15% of the total expenses.
Interest rate of Education Loan of BOI
The interest rate of education loans from BOI is competitive and affordable. The rate is linked to the bank's Marginal Cost of Funds-Based Lending Rate (MCLR), and it is currently at 7.25% per annum. The interest rate is subject to change based on the bank's MCLR.
Repayment period for BOI Education Loan
BOI offers a flexible repayment period for its education loan. The student can repay the loan over 10 to 15 years, depending on the course and loan amount. The repayment period includes a moratorium period, the time given to the student after completing the course before starting to repay the loan. The moratorium period is typically six months to 1 year and can be extended if necessary.
BOI Education Loan Security
BOI grants collateral-free education loans for shorter tenures. However, it requires collateral security for education loans exceeding Rs. 7.5 lakhs. The collateral can be in the form of immovable property or other assets acceptable to the bank. For loans up to Rs. 7.5 lakhs, no collateral is required, but a third-party guarantee is necessary.
BOI Education Loan Processing Fee
BOI charges a nominal processing fee for education loans, currently set at 0.50% of the loan amount. The processing fee is non-refundable and must be paid when applying for the loan.
Other features
BOI's education loan also offers additional features, such as prepayment options, which allow the student to repay the loan partially or fully before the due date. There are no prepayment charges for loans up to Rs. 20 lakhs, while a 1% charge applies to loans above Rs. 20 lakhs. The loan also offers insurance coverage for the borrower in case of unforeseen circumstances.
Wrapping Up
BOI's overseas education loan is a great option for students looking to fund their higher education. The loan offers competitive interest rates, flexible repayment options, and a range of other features, making it a preferred choice for students. However, it is crucial to note that the loan is a financial liability and must be repaid on time to avoid any adverse consequences. Therefore, students must carefully assess their financial situation before applying for overseas education loan and ensure they can repay it comfortably within the given time frame. 
At EduLoans, our counselors attend to your needs, aid with paperwork preparation, and make it simple for you to contact BOI Bank personnel for education loans. Call us today, and let us enable you to get the right help quickly!