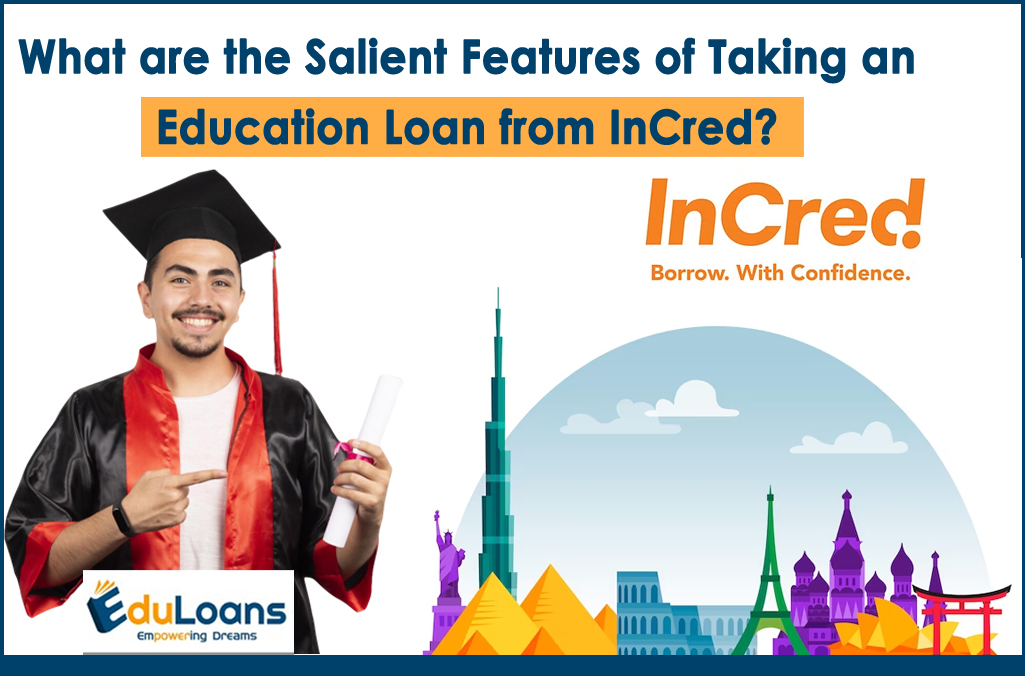 What are the Salient Features of Taking an Education Loan from InCred?
Recently, NBFCs have emerged as the saving boat for students who aspire to higher education from premier universities but face challenges in gathering financial resources. Whether it is about studying in the finest university in the country, going abroad for higher education, or struggling with the fees and expenses of the university, NBFCs are significantly lending a helping hand to laborious students. 
Taking an education loan from a recognized financial institution that offers attractive interest rates has often been a struggle for most people. As a result, most NBFCs offer education loans to aspiring students to meet the increasing cost of higher education in India and abroad. InCred provides education loans that have helped many students to get higher education in the country and outside.
InCred Finance
InCred Finance is an NBFC that offers collateral-free education loans for higher education abroad. 
About InCred Finance Education Loan
Regarding acquiring education loans, InCred offers its borrowers a superior financial experience. InCred Finance education loan scheme, launched in 2017, aims to help students financially in their dream of higher education. Students who wish to pursue higher education, whether in India or abroad, can apply for an education loan from InCred Finance education loan.
Features of InCred Finance Education Loan
 Let us look at some of the features of education loans from InCred Finance.
Loan Amount
InCred Finance offers collateral-free education loans up to Rs. 60 Lakhs. However, borrowers need to know that the sanctioning of collateral-free education loans depends upon the borrower's history and after verifying all the necessary documents.
Processing Fees
InCred Finance processing fees for education loans range between 0.75-1.25%.
Disbursement Duration
It is no surprise that education loans often take a great deal of time due to the processing of documents. As a result, the loan disbursement gets delayed. However, with InCred Finance, the education loan gets rapidly sanctioned within 48 hours, and the disbursement initiates within a week.
Pre-Loan Charges
An NBFC like InCred Finance understands that students' educational requirements are vital and that the financial institution should not pressure the borrower. Therefore, InCred Finance charges nothing after six months from the first disbursement.
Benefits of taking an education loan from InCred Finance
Complete Financial Assistance
The borrower can expect complete financial assistance from InCred Finance on education loans, whether they opt for with or without collateral education loans. With so many expenses to cover, InCred provides complete financial assistance.
Flexible Repayment Options
InCred Education Loan offers tailor-made to borrowers that match their needs. 
Zero Margin Money
Getting an education loan from InCred Finance has a key advantage over other financial institutions because the margin of money is zero. The loan will cover all expenditures. Consequently, the borrowers will not have to spend anything out of pocket to support their education and related expenses.
Tailor-made loan options
InCred Finance education loan scheme offers tailored options for education loans, such as relaxed tenure during the moratorium period and disbursement from InCred to meet educational needs.
Online Management
Following the disbursement, the borrowers can access their accounts online to get a comprehensive history of all their transactions, interest, EMI payments, etc., which helps them keep an organized and consistent record of transactions while ensuring transparency.
Final Thoughts
NBFCs like InCred Finance offer several benefits on education loans, making the institution easily the best NBFC. With proper guidance, you can reap the benefits. At EduLoans, our counselors cater to your requirements, assist in preparing documentation, and help you easily secure an education loan from InCred Finance. So, take a step toward your dream. Contact us for more information.