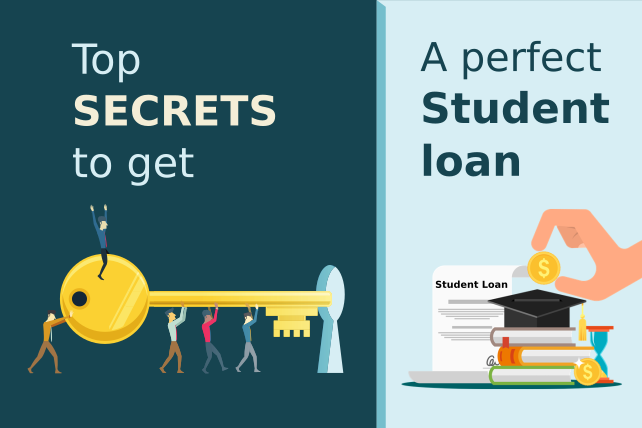 The secret to get the most suited loan is to look at your criteria's and what maters to you about the loan. You can consider all or some of the following points while deciding what suits you the best
Rate of Interest Vs Efforts in Getting the loan – It depends what matters to you and your family. In case your parents are salaried and have long working hours and you are looking for convenience please do not dread over paying the extra 1 /2 % on the loan. In case you have time and patience to follow it is always advisable to go to the nationalized banks, as they would invariably offer the least interest rate with guaranteed 80E Tax benefit.
Secured Vs Unsecured Loans – Many NBFC are providing unsecured loans to students who are looking to pursue select courses in select countries especially at the master's level. You also need to consider whether your property is mortgage able. Financial institutions would not accept properties without proper chain of registered documents, Occupational Certificate, in villages or gram panchayats, agriculture plots etc. It is advisable to first wet the documents, which you have before proceeding on the final course of action.
Documentation Vs Paperless system – The documentation for a secured loan is a laborious exercise. In case of unsecured loan the same eases a bit. In case you are looing at true convenience it is advisable that you look at foreign funds who have completely paperless system where in you would be able to get you loan sanction in 24 hrs
Disbursal (Convenience Vs Procedure) – Its important to note while applying for the loan the disbursal procedure. In most cases the students assume that the sanction letter is the ultimate completion of the education loan. In most cases they are unaware of the formalities required for disbursal. In many cases financial institutions insist on the exact payment schedule provided by the college. They also insist on the lease agreement of the student to ascertain the requirement of the living cost of the student. In some cases they simply disburse on an undertaking letter. Please figure out what is required at your end and then come to a conclusion on which service provider you would want to take for your loan.
Tax Benefit (80 E) Vs No Tax Benefit – In case your parents draw a handsome salary you would be looking at a TAX benefit for your parents. Please ascertain that the financial institution is registered under the RBI requirement for 80E Tax benefit.
Margin Money (Required Vs Not required) – During the disbursal financial institution can insist on margin money with every tranche of the payment. In most cases while studying abroad the student gets to work part time as well as seek scholarships such as Research Assistant-ship, Teaching Assistant-ship, Graduate Assistant-ship which reduces the overall requirement of money required for education. However, many financial institutions do not consider such probability and allow you to only withdraw if you have margin money for the remaining amount. In other cases the financial institution agrees to allow whatever disbursal is requested without considering any sight of future payments.
Top Up Loan (Provided Vs Not Provided) – Please ascertain that the financial institution can fund even if you have received funding from another institution. Technically RBI does not allow you to get education loan from multiple financial institutions. However, In many cases the financial institution is lending against mortgage for education purpose or in some cases being an international fund it does not come under the preview of RBI. The Top up facility provides the student with a level of comfort and option.
Guarantor Vs No Guarantor – Its important to understand the financial institutions requirement of a guarantor. In most cases CIBIL Score, IT returns, Years of Service (Past and Future), Mortgage payments etc are the major criteria's. As well the same has be immediate Kin – Parent or Brother/Sister. Please check in case the same is available at your end and then decide which service provider suits your requirement.