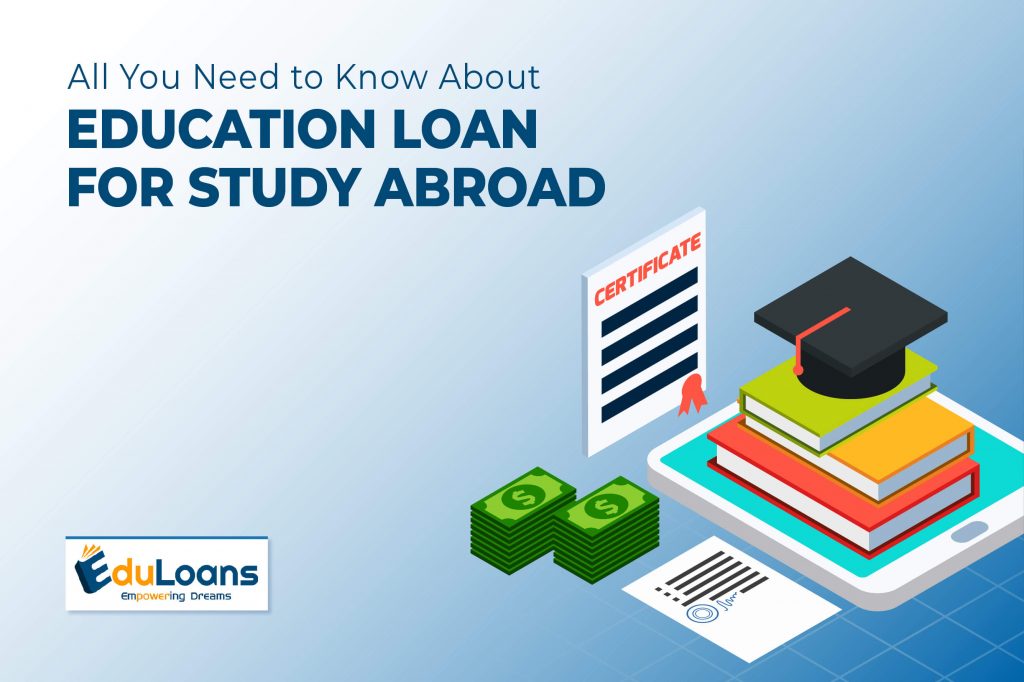 Recent years have seen a significant rise in the cost of education, especially in a foreign land.  However, the aspirations of students to pursue higher studies from top institutes in the world have not been affected due to high availability of education loan for study abroad. Students who aspire to study abroad in top universities seek education loans for study abroad from top lenders who can finance their education and help them realize their dreams. In this blog post, we shall study everything that you need to know before taking an education loan for study abroad.
What does an education loan for study abroad cover?
Tuition fees, library fee, and exam fees
Books and necessary equipment like a laptop/computer
Hostel fees and other accommodation charges
Any other expenses required to complete the course
What is the eligibility? criteria?
The student should be an Indian resident and have age between 16-35 years
Collateral security may be needed depending on the education loan for study abroad amount
co-applicant , on the student's financial status,
What documents do you need to have?
Copy of admission letter from the college with a fee structure
Mark sheets of SSC, HSC, and graduation
Grade sheets of any entrance exam like GRE/GMAT/TOFEL
KYC documents
Bank statement for the preceding six months
Income documents
How much loan can I apply for?
For education loan for study abroad, most banks have an upper limit of Rs.80 lakhs
Smaller amounts (up to Rs.7.5 lakhs) may be disbursed in full
A margin of 15 percent for studies in abroad, for amounts exceeding Rs.7.5 lakhs
Is collateral and/or guarantor required?
Most banks allow unsecured loans of up to Rs. 7.5 lakhs. Beyond,  will require a guarantee in the form of tangible collateral security. Some banks also ask for a guarantor or co-signer.
What are the interest rates? Are there any other expenses?
The interest rate ranges from 9% to 15% pa. There will also be processing charges between Nil to 1.5% of the loan amount. Banks can also charge penalties which would be available on the bank's website
When will I have to repay the loan?
Repayment usually begins 12 months after the course ends or 6 months after the student gets a job, whichever is earlier. The total tenure of the education loan can be from 7 – 15 years after this period.
Whats Important in an Education loan ?
In earlier times for study abroad education loan the most important factor was the collateral. However, in recent years all lenders have started looking at the student profile as the primary security. They are looking at the student to repay the loan once he starts earning. The student is expected to earn in the currency of education and has substantially higher salaries when compare to India and salaries. Hence you have many lenders who land purely on the basis of the university and the course where the student is pursuing a study abroad options.
Wrap Up
It is also important to remember that before finalizing the bank from where you wish to take your education loan for study abroad, you should compare different banks and NBFCs and their loan expenditures along with interest rates they are demanding. You should as well look at the convenience they are offering for the education loan in India to study abroad. In India,Education loan is considered a priority sector where we can look to get the overseas education loan further reduced by 80E Tax benefit. The process at Edu Loans can help you fetch the best rates for your loan in the market. While the task can be daunting for first-timers, you can simply connect with Edu Loans where you get a single platform that helps you to connect with a wide range of financing options and get the best interest rates for your loan. We also help you detect the advantages of factors like moratorium period and processing fee which can make a great impact in saving you some money.