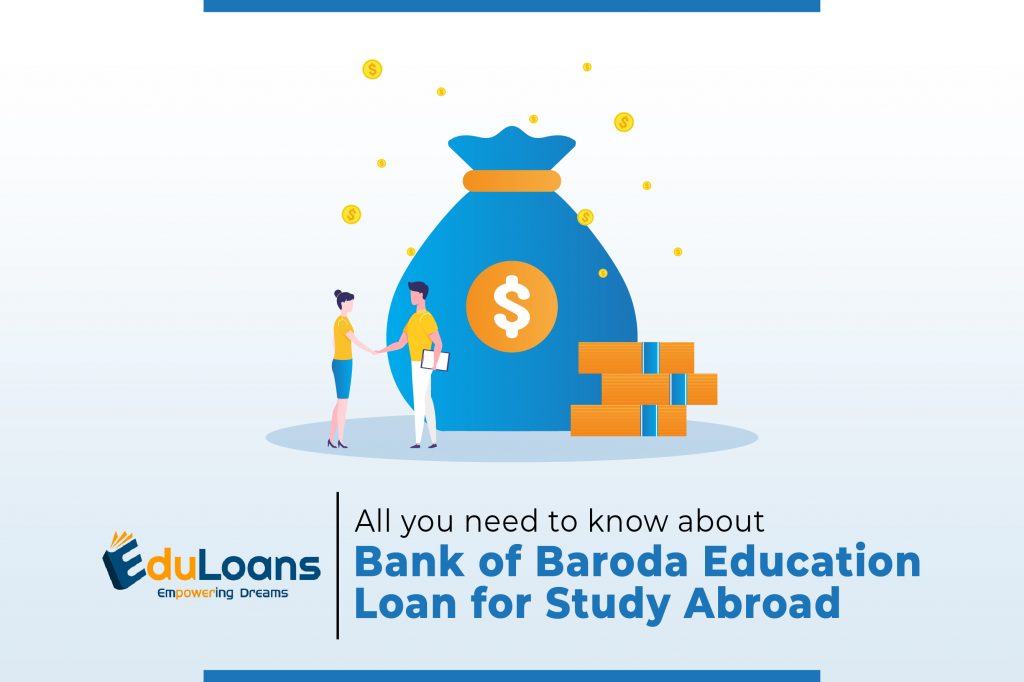 Bank of Baroda is one of the premier financial institution in India which provides education loan for study abroad to more than thousands of aspiring candidates every year. But qualifying for Bank of Baroda Education Loan for Study Abroad isn't as easy as it seems. In this blog post, we shall discuss some of the important considerations you should consider before applying for an education loan for study abroad in BOB. Take a look!
Key Benefits
No processing charges.
No Margin on loans up to 4 lacs.
Free Debit Card.
Eligibility for Course
Graduation for students applying for technical/ job oriented courses offered by reputed universities.
Post Graduation: MCA, MBA, MS., etc.
Regular Degree/ Diploma courses like Aeronautical, Pilot Training, and Shipping, provided these are recognized by local Aviation / Shipping authority and Director General of Civil Aviation/ shipping in India or the competent regulatory bodies in India / abroad for the aim of employment in India / abroad.
Education Loans for courses offered by Universities/Institutes for study abroad aside from laid out in the above-mentioned Lists also can be considered with none preferential treatment.
Student Eligibility
Should be an Indian National.
Secured admission to all the professional and technical courses through Entrance Test / Merit Based Selection process.
Interest Rates & Charges
Simple interest is charged at monthly rests during the repayment holiday/moratorium period.
50% Concession in rate of interest to loans for girl students.
Penal interest @ 2% p.a. on the overdue amount, if the amount exceeds Rs.4.00 lacs
Rate of Interest
Processing Charges
Important Terms and Conditions
Target group Students going abroad for Professional / Technical studies and seeking Bank of Baroda Education loan for study abroad
Quantum of finance
80.00 lakh for Institutions laid out in List of Premier Institutions
60.00 lakh for Institutions not laid out in List of Premier Institutions
Need-based finance subject to repayment capacity of oldsters
Margin
For Institutions laid out in List of Premier Institutions: NIL (irrespective of education loan for study abroad amount)
Institutions not laid out in List of Premier Institutions
Up to RS.4.00 lakh: NIL
Above RS.4.00 lakh:10%
Repayment Holiday and Moratorium Period Course period + one year.
Coverage of expenses for
Fee payable to school / Institution / University / Hostel / Mess charges
Examination / Library / Laboratory fee
Purchase of books / instruments / equipment/uniforms
Personal Computers / Laptops wherever required
Caution deposit/ refundable deposit supported by institution bills/Building fund /receipts, subject to the condition that the quantity doesn't exceed 10% of the whole tuition fees for the entire course.
Insurance premium for the student borrower
Any other expenses required to finish the course – like study tours, project works, thesis, etc.
Travel expenses/passage money (to and fro)
The cost of external coaching/tuition isn't to be considered.
Repayment Period
The loan is repayable in maximum 10 – 15 years after the completion of the moratorium period as mentioned above
For loans up to RS. 7.50 Lakhs: Moratorium Period +Maximum -120- installments
For Loans above RS. 7.50 Lakhs: Moratorium Period +Maximum -180- installments
Unified Processing charges
00% of the education loan for study abroad amount (maximum ₹ 10,000/-) to be recovered upfront which can be refundable on availing (first disbursement) of loan. the quantity is often refunded to the credit of the Saving checking account / Loan account of the scholar/borrower.
A nonrefundable payment amount Rs.7,500/- per property (towards Advocate and Valuer charges) to be taken upfront just in case of all Education Loan accounts, wherever the property is mortgaged.
Security
Up to RS. 4.00 lacs: Co-obligation of the parent. No Security.
Above RS. 4.00 Lacs and up to RS. 7.50 lacs
Collateral within the sort of an appropriate third party guarantee alongside assignment of future income.
Above RS. 7.50 lacs
Tangible collateral security adequate to 100% of the loan amount alongside assignment of future income of the scholar for payment of installments.
Disbursement
Directly to School / Institution / hostel — term wise / year wise, piecemeal as per the need / demand.
Directly to bookseller/buy purchase of books, instruments, and equipment.
In case the student doesn't secure a hostel facility with an educational institute, he could also be allowed to form his own arrangement if required. Lodging/boarding charges in such cases to be paid on to concerned establishment.
Taking it forward through Eduloans
Edu loans and Bank of Baroda are digitally connected wherein we have complete API integration. We ensure that the entire file is sent into the servers of Bank of Baroda through the API Integration. In this scenario the student directly visits the special mortgage store where he meets with the dedicated educational loan officer for that region. The efficiency and speed of operation between Bank of Baroda and  the student is facilitated by Edu loans. We have time and again shown that we can help you process bank of Baroda education loan at least 40% faster than you visit the branch.Once the loan is sanctioned students can avail disbursal  of the  education loan for study abroad from the branch which is in close proximity to the permanent residence of parent/at the place of posting/service of the parent Branch. If you find any difficulties in finding the right directions to seek a BOB education loan, connect with Eduloans, a one-stop destination to all your answers. We make sure that we help you through the entire Bank of Baroda Education loan for study abroad process and help you get the best financial assistance.